Gladys Adventure
Mt Meru Treks
Mt Meru is the second highest mountain in Tanzania - fifth highest in Africa at 4,565m. It is located inside of Arusha National Park, a one hour drive from Moshi. Similar to Mt Kilimanjaro, this is not a technical climb so no special climbing gear or techniques are needed. The climb is most commonly done as a four days itinerary, although a three day option is possible but not recommended unless you are quite fit. The added day is on the descent, so the longer itinerary does not add to acclimatization, but breaks up a long and grueling summit day. The climb is steeper than Mt Kilimanjaro. Many people use this as an acclimatization trek before attempting Mt Kilimanjaro but it is a wonderful and beautiful climb in its own right. The number of people climbing the mountain is far, far less than Mt Kilimanjaro.
At the lower altitudes, encountering animals is quite possible so an armed park ranger is required to accompany all climbers. Since the number of rangers is limited, they often combine groups together to accompany one ranger. These groups will be from various tour operators and each will be expected to have their own guide, cook , porters, etc. We do not have any control over how or if the park groups people.
Route Choices
It is an easy choice since there is only one route. Overnights are in simple dormitory style huts with solar powered lighting. Camping is not an option on Mt Meru.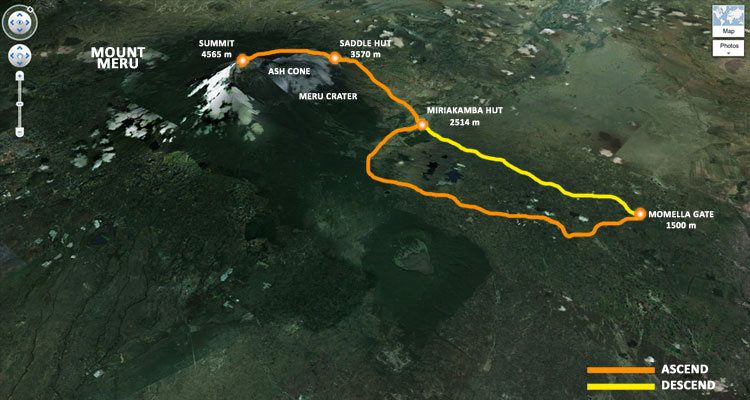 Mt. Meru 4 Days Itinerary
Day 1: Momela Gate to Miriakamba 1500m to 2514m.
Today after driving one hour from Moshi town to Momela gate and meet with the ranger to accompany the group then start walking passing in some open grassland with a great chance to see buffalo and warthog. The trail let us passing through less dense forest where there is an abundance of birds and monkeys including black and white colobus. Approximately 5 to 6 hours walking. Today we will overnight at Miriakamba Hut.
Day 2: Miriakamba Hut to Saddle Hut 2514m to 3570m
The walking today is short, but a considerably steep and sustained climb all the way. Starting through attractive open and lush montane forest through Elephant Ridge and giants heather and moorland vegetation to Saddle Hut. Arrive at approximately 2pm. Acclimatization to Little Meru. Return for dinner. Sleep for approximately 5 hours.
Day 3: Saddle Hut to Socialist Peak to Miriakamba Hut, 3570m to 4566m to 2514m
Wake up at 1am to start to the summit. Watch sunrise between Cobra and Socialist Peak. Summit approximately 7am. Return to Saddle Hut for a meal and packing. Depending on timing, possible 1 hour of sleep. Now we make our way to Miriakamba Hut for overnight.
Day 4: Miriakamba Hut to Momela Gate, 2514m to 1500m
Start at Miriakamba through the forest route where there is a waterfall for a short visit. Walk through the open plain where you can see the buffalo and possibly giraffe. Proceed to Momela Gate to sign out and drive back to your local accommodation.
There is an option of a 3 days itinerary, which is identical but combines days 3 & 4 together. Since this is on the descent, there is no difference in acclimatization. This itinerary is pretty tough and not recommended for the average trekker.
Mt Meru Trek Prices
Prices are per person and quoted in USD
| number of climbers | 1 | 2 | 3 | 4 | 5 | 6 | 7 | 8 | 9 | 10+ |
| --- | --- | --- | --- | --- | --- | --- | --- | --- | --- | --- |
| 4 Days Itinerary | $1200 | $941 | $876 | $850 | $829 | $814 | $786 | $762 | $748 | $731 |
| 3 Days Itinerary | $905 | $780 | $716 | $680 | $663 | $645 | $619 | $606 | $595 | $586 |
THE TREKKING PRICE INCLUDES:
All park fees and rescue fees for the national park
All meals and water while on the mountain
All salaries for guides, assistant guides, chef, porters
Transport to and from the park gate
All camping equipment (everything but your sleeping bag.)
THE TREKKING PRICE DOES NOT INCLUDE:
Accommodations before or after the trek
JRO airport pick ups and drop offs ($40 per car/per trip)
International flights & Visas
Travel Insurances
Driver and climb staff tips
Drinks and dining rooms tips
Personal travel costs
Any items of a personal nature
Activities not mentioned in the program
A 10% deposit will secure your climb. We accept payments via wire transfer directly into our bank account or online payment by credit/debit card (5% bank fee for this option). The remaining balance is not due until you arrive. We can accept additions to the groups up until the day before the trek starts.
In case you need to postpone your tril, funds can be used for any future booking with Gladys Adventure for the next 12 months after your original trip date. Funds can also be applied towards the balance of others who have booked through Gladys Adventure.
Full details about payment terms & conditions can be found here - Payment Terms & Conditions
To book a trek or for more information
contact us though our Info Request page.